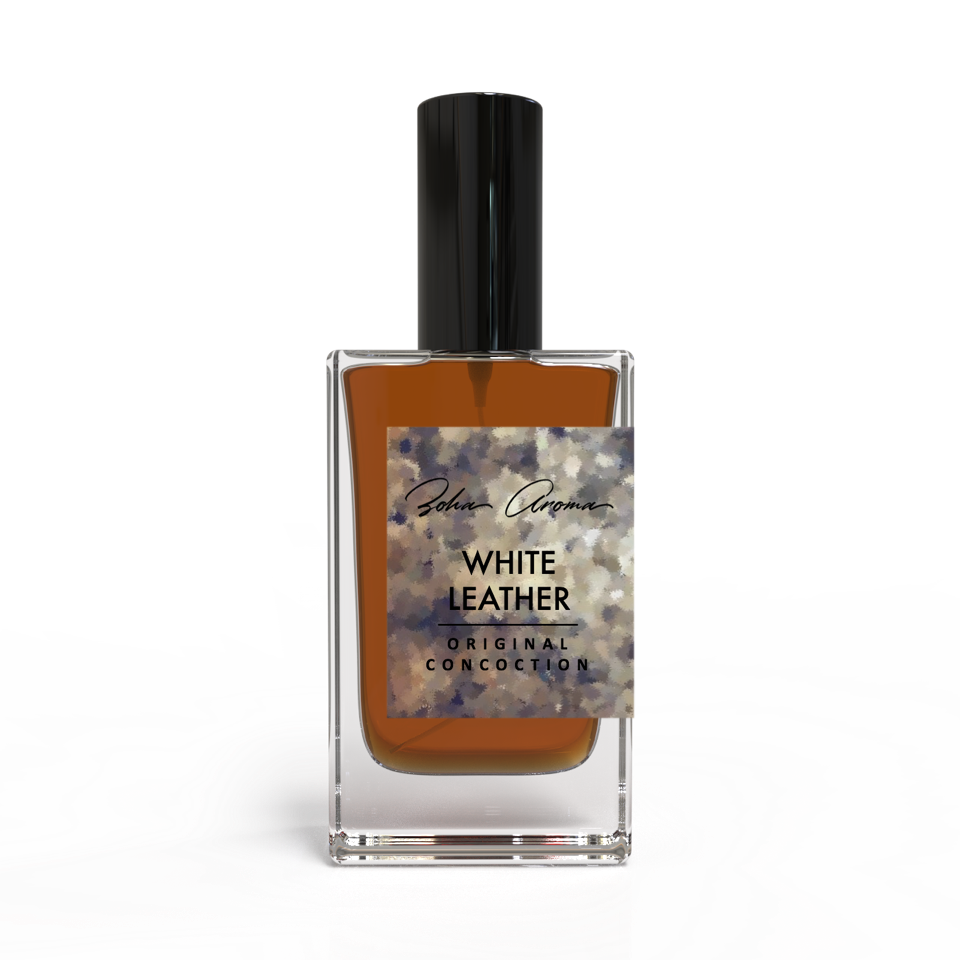 White Leather is an exquisite original blend from Zoha Aroma. Its profile is gourmand at core with a sensual wrapping of leather and tobacco all around. With an acquired balance of warmth, depth and comfort, White Leather lends a mixture of booze, smoke and gentle animalic nuances throughout the different phases of the composition. The opening offers a creamy, nutty chocolate doused with vanilla and whiskey. Shortly after, the notes of leather and tobacco come to life dispersing a cloud of sophistication and confidence. The final stride of refinement is presented by the note of Agarwood, paring perfectly with tobacco and amber to create an impression of resinous fumes.
Main notes: Chocolate, Vanilla, Whiskey, Amber, Tobacco, Leather, and Agarwood.
Concentration: Eau de Parfum
Classification: Unisex
Season: fall/winter
Sweet and woody leather
Amazing chocolate opening! And dries down to a scent closer to a great, sweeter Issey Miyake Polaris alternative.
It sat a few weeks in a dark cabinet while I enjoyed the samples of oils I received..(M7!!!) When the 4 sprays I ordered first arrived it was clear they needed to recover from shipping so after a few weeks now they are lovely. This one is vanilla musky slightly tobacco just all around lovely fall winter unisex scent. I hope they have a matching oil. I cant rate longevity because I just put it on but as for scent it's a win.
This is absolutely amazing...
Well I got the opportunity to experience this *GGEEMM* just 24 minutes ago.
Do you watch LIVE POLICE on tv?🤔🤔.
DO NOT RESIST! DO NOT RESIST!
Do yourself a grand FAVOR-DO NOT RESIST.Forget the eloquently worded DESCRIPTIONS--DO NOT RESIST!!!!
Alim & Sami,my order is in motion.
Outrageous bargain ....... I will not resist.
Super interesting but needs time to mascerate! I usually wouldn't do a review unless I let the fragrance sit a few months but this is unique and smells great! I get the chocolate and vanilla with a slight hint of a leather note coming through in the background! The Oud I don't really smell or the whiskey but it's so well blended I think its a hidden gem.....i cant stress this enough THESE FRAGRANCES NEED A FEW MONTHS TO MATURE!