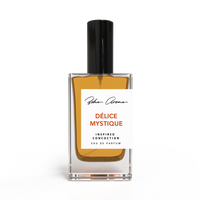 DÉLICE MYSTIQUE is inspired by Kilian Angels' Share. 
Concentration: eau de parfum
Cognac, Cinnamon, Tonka bean, Oak, Praline, Vanilla & Sandalwood.
just amazing
Smells very close to Angel'Share, amazing smell , long lasting and nice packaging and presentation, thanks
Delicious
Ask and The House of Zoha Aroma will deliver. DÉLICE MYSTIQUE is my new favorite scent. Cognac, Cinnamon, Praline, Vanilla well blended into a sweet aroma that makes you want to smell more. It lasts on my skin and can be worn all year round as a signature scent or for layering. Aromatherapy in a bottle. This is gorgeous. Thank you Zoha Aroma!
Very Impressed
I have placed a couple of orders from Zoha Aroma in the last couple of months and I must say I have been very impressed. Some of the ones that really stood out to me are Valor, Centauri, Flaneur, Delice Mystique, Oudlicious (All sprays) and the Feve Delicieuse oil. I wore Oudlicious today at work and layered it with Feve Delicieuse oil and got a lot of compliments. I was told over and over again how I smell soooo good. I am really enjoying these fragrances and looking forward to spraying the other ones in the next few days. Thanks Zoha, I will definitely be shopping for more in the new year.