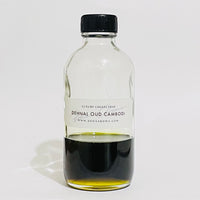 Dehnal Oud Cambodi, one of the most coveted varieties of Oud. This fragrance boasts dark, woody, and animalic characteristics that make it truly unique. The scent opens with an exotic darkness that's dominated by the Oud accord, with hints of animalic undertones that add to its allure. As the fragrance dries down, the animalic notes recede, giving way to a dry, woody, and mildly sweet accord that lingers on your skin. Dehnal Oud Cambodi is an exciting and intriguing experience for Oud enthusiasts and is a must-have for anyone looking to expand their collection.
Abundant, enormous & voluminous
Oud lovers! This stuff is amazingly powerful.
Good for layering and boosting fall/winter fragrances with more depth.
Apply on your skin, sit back and watch the fireworks.
Well done @ZohaAroma
I've known this oud to be very expensive. For the price that they are selling at I didn't expect it to be very good. But it didn't disappoint me at all.